Twenty-Foot Equivalent Unit
How to Flee the Country #2 (previously published on TinyLetter)
Sorry it's been a while since the first issue of How to Flee the Country, but things got away from me, because moving across an ocean is a huge project. Luckily, the size of one part of the project is standardized: 19 feet 10 inches long, 8 feet 6 inches tall, and 8 feet wide.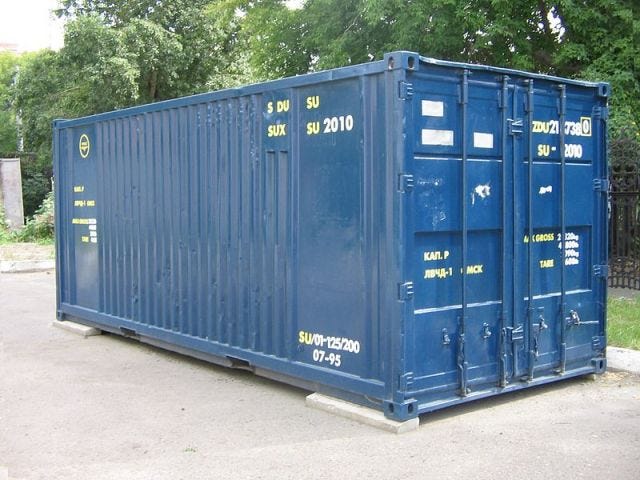 This is an intermodal shipping container. They come in standard sizes, so that no matter what you're sending or how lumpy or misshapen it is, it can be quickly and tightly packed aboard a ship with a bunch of other containers. Though containers vary in size (mostly in length and height), they're all measured in terms of the (approximately) twenty-foot long container. Thus, the Twenty-foot Equivalent Unit or TEU. Nearly all of our stuff—books, dishes, furniture, knick-knacks, etc.—has been packed into a 1 TEU container, so that it can be transported (relatively) cheaply and (relatively) safely to the United Kingdom.

FUN FACT for STONERS: a refrigerated container is called a reefer.

Compared to a local move, moving internationally adds several layers of complexity, despite the standardized container. A local move typically involves two parties: the people moving, and a moving company. A long-distance domestic move might involve four parties: the people moving, a local moving company at either end, and a trucking company in between. Our international move involves no less than six parties:
The consignor/consignee, the people moving. In other words, Audrey and me.

An origin agent—a local moving company—that is packing and loading our stuff into a container at the point of origin.

A freight forwarder—a company that doesn't own any ships—who hires:

A carrier—a company that does own a ship—to carry our container full of stuff to:

A destination agent who, in turn, hires:

A moving company in England (or, as they'd call it, a "removal" company) to deliver our stuff to our eventual new home.
If we had less stuff, we would've added a seventh party between the freight forwarder and carrier, a consolidator, who would've found some shipment to combine with ours into a full container's worth of stuff to pass on to a carrier.

All this complexity, plus the physical demands of moving everything around, plus the fact that we're cheap and didn't pay for fast shipping, means that the whole process, from packing and collection of our stuff in Newark to final delivery in Cambridge, is estimated to take 40 to 70 days. But to paraphrase an ancient Chinese text, a journey of 3,500 nautical miles begins with two days of packing and loading. So this is what our Monday and Tuesday looked like: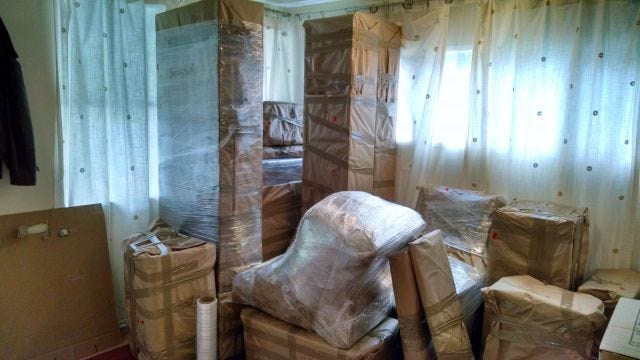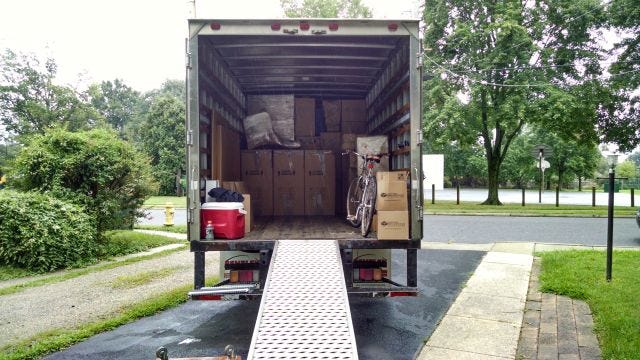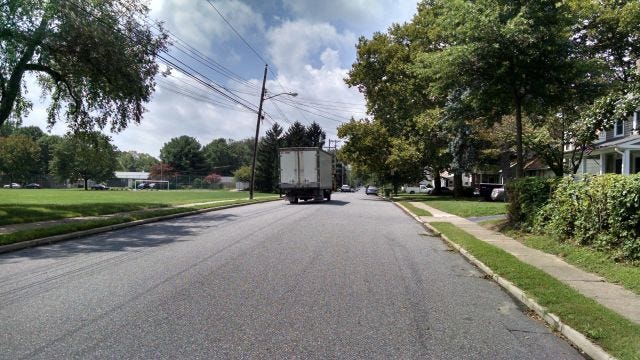 After the movers left, they took our stuff to the local mover's facility where they packed our stuff into the container, leaving us with dust bunnies and a box full of hazardous materials they refused to ship internationally for us for some reason.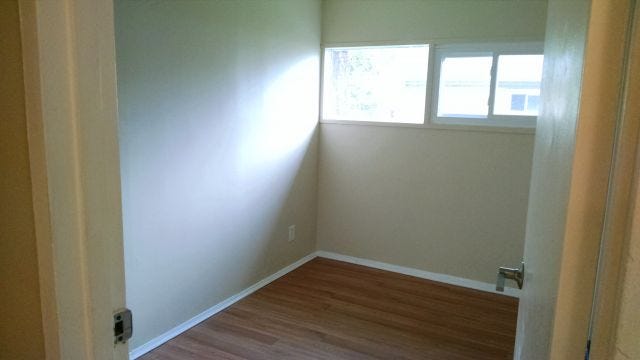 The cat found this whole process confusing and upsetting.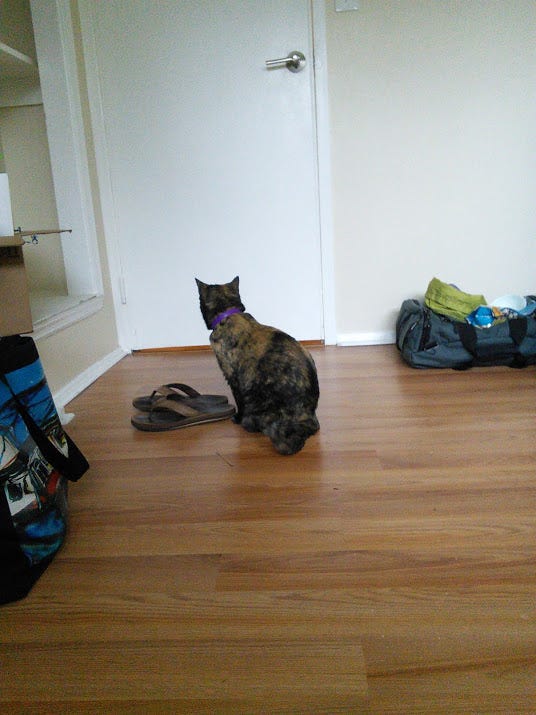 Now, we're staying with Audrey's aunt in Philadelphia while we tie up some loose ends: selling our car, finalizing documents for the cat, and preparing to head off to the airport. On Sunday, we fly across an ocean and begin our lives as expats.
In the next issue of How to Flee the Country: how to move an animal to the UK. Spoilers: it's not cheap, easy, or simple!